As seen on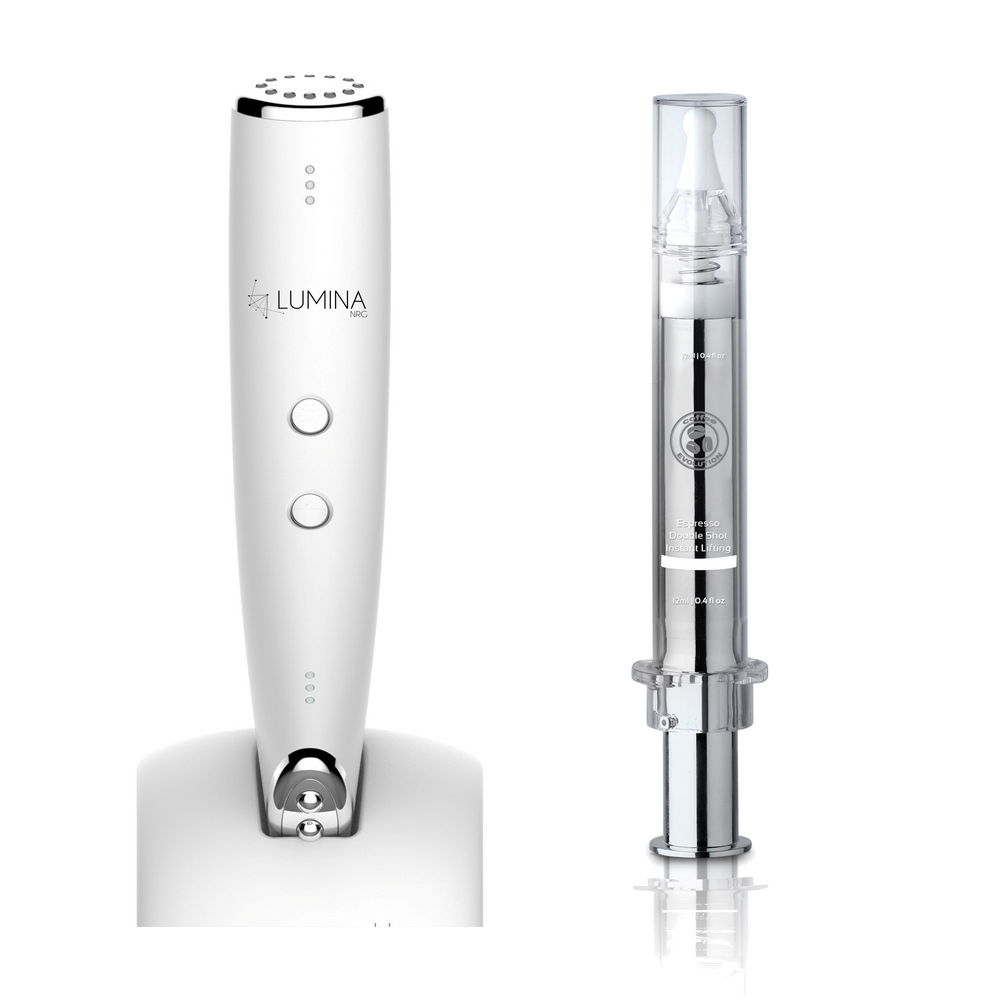 As seen on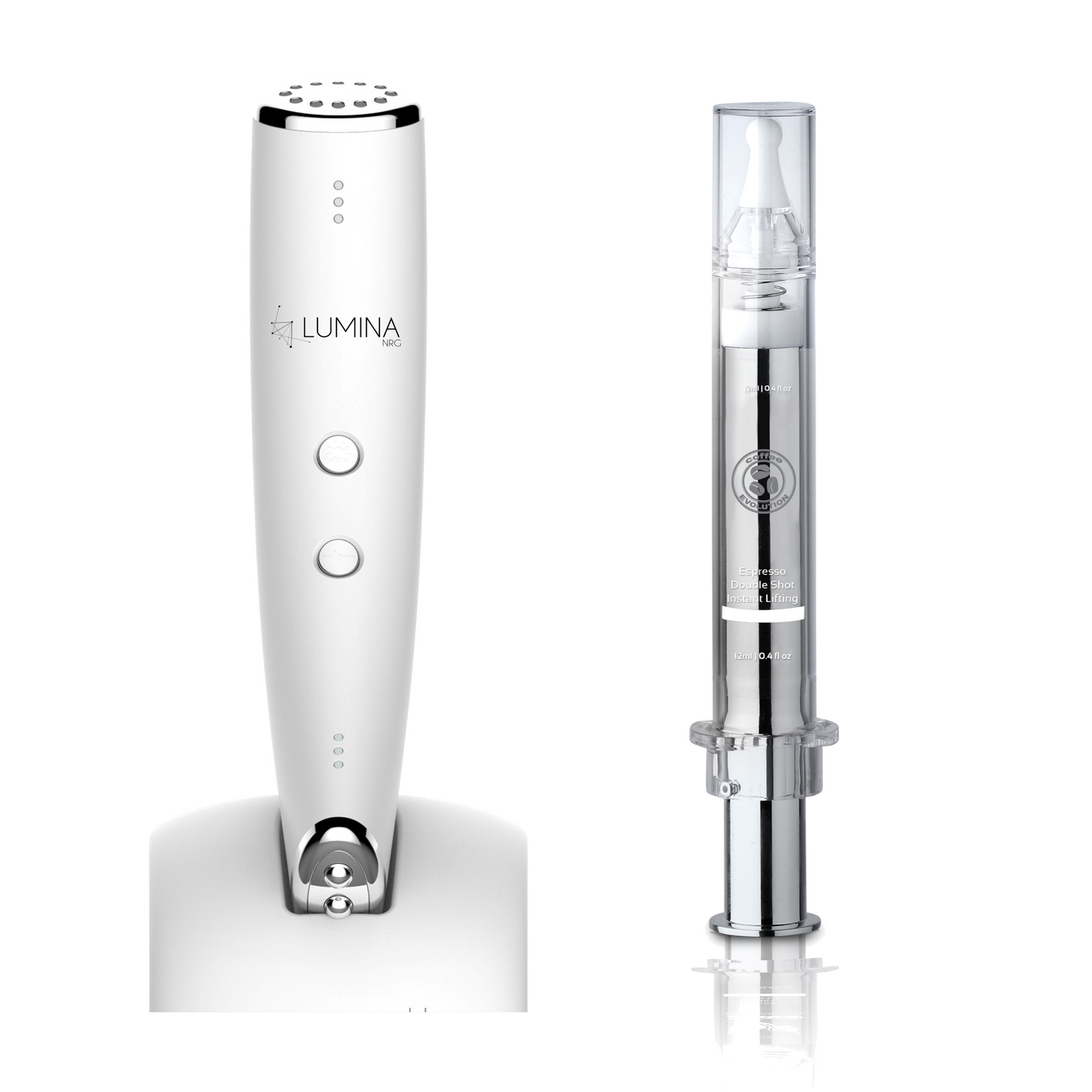 lumina nrg Facial Toning Therapy with Instant Lifting Syringe
$379.95
$404.00
Regular price
Overview
Easy to use and incredibly effective, the 3-in-1 At Home Anti-Aging Device is your ticket to a younger, healthier looking you!
Reduces the appearance of fine lines & wrinkles
Promotes the production of cells & collagen
Treats dark spots and reduces redness
Treats acne and sagging skin
Warming: Heat therapy opens the pores to achieve maximum absorption of your favorite skincare products. Relieves redness and swelling.
Cooling: Instant cooling therapy diminishes the appearance of pores and reduces puffiness. It also lifts while firming the skin
THE RED LIGHT (620-730 nm Wavelength)
The red light penetrates 8-10mm. Best for fine lines and large pores.
The red light stimulates collagen, an essential protein necessary for maintaining healthy, soft and beautiful skin. Collagen production is boosted, while damaged tissue is repaired.
Enlarges pores look smaller and less visible.
Beauty note: You'll see the brightness more than feeling the heat of the lights.
THE BLUE LIGHT (430-450 nm Wavelength)
The blue light penetrates 0.5mm. Best for acne-prone or sensitive skin. The blue light acts as an anti-inflammatory and calms hypersensitive, blemish-prone skin. Redness is minimized, while acne-causing bacteria is diminished. You'll notice existing blemishes seem to immediately shrink, while skin stays breakout free for longer. Beauty note: The treatment is pain-free and treats acne-prone teenage skin, as well as adult-onset acne.
EMS (GENTLE MICRO-CURRENT TREATMENT)
The micro-current therapy works by mimicking and gently accelerating the normal cell activity of skin which can slow down with age. Oxygen is more easily absorbed, damaged tissue is repaired and college production is increased. 
BENEFITS
Reducer the appearance of fine lines & wrinkles.
Promote the production of cells & collagen.
Restore your natural current and get rid of the saggy skin.
CLINICALLY PROVEN
Micro-current facial toning is a great alternative to getting a face lift since it is non-invasive, does not require any recovery time, gives instant results, and does not have the same potential for harmful complications as surgery does.

This is a technique used for both men and women that can dramatically improve the appearance of your skin.

Based on technology which has been successfully used in medicine, the technique utilizes micro current stimulation to restore healthy skin cells.
Espresso Double Shot - Instant Lifting
When you want the benefits of a facelift without an expensive or invasive procedure, the Non-Surgical Lifting Syringe from Coffee Evolution will banish wrinkles and puffiness, even around the eye. After applying the Non-Surgical Lifting Syringe, the appearance of wrinkles and fine lines disappear and your skin looks and feels softer, smoother, younger, and tighter. The results, which are instant, depending on your skin type.

Tightens pores within 60 seconds of application
• Visibly reduces bags and fine lines
• Instant, on the go lifting and plumping
• Designed for a special occasion

Whether you want to use this product every day or just for special occasions, the results can be dramatic. As you feel the product begin to work, you will see sagging tissues and puffiness disappear. You'll be amazed at how much just one drop can do.
Using ingredients like sodium silicate and coffee Arabica, the Non-Surgical Lifting Syringe tightens the skin and lifts wrinkles while absorbing excess facial oil. The Non-Surgical Lifting Syringe also includes seaweed, which not only reduces wrinkles, but also helps prevent sun damage, tones skin, and works on many skin problems such as psoriasis or rosacea.
While you may have earned the lines on your face, the rest of the world doesn't need to know.