As seen on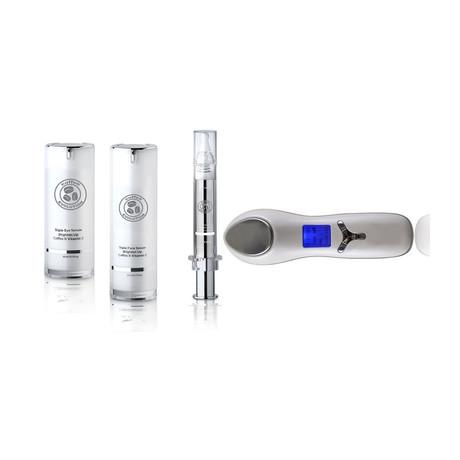 As seen on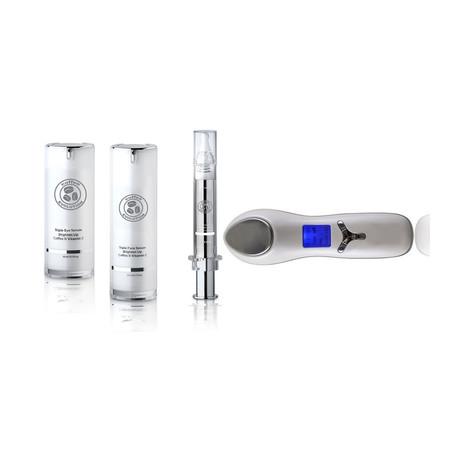 Anti-Aging Brightening Set Plus Non-Surgical Anti-Aging Dual Face & Eye Ultrasonic Infuser
Overview
The Anti-Aging Brightening 4 piece skin care set is the secret to prevent aging and to stay looking your best.
The Espresso Double Shot provides the benefits of a face lift without an expensive and invasive procedure. This syringe will help banish wrinkles and puffiness, even around the eyes. As wrinkles and fine lines begin to fade, your skin will feel softer, smoother, younger, and tighter.
The Brighten Up Triple Face Serum and Brighten Up Triple Eye Serum are combined with Vitamin C and Coffee Arabica, a powerful antioxidant that reduces damage and freshens the appearance of the skin, preventing damage and protecting from future harm. These active ingredients are suspended in a formulation of coffee seed oil, an excellent moisturizing agent, making it easily absorbed, and instantly minimizing fine lines and wrinkles.
The Hot & Cold Facial Infuser for  Face & Eye features a design specifically engineered to treat the face and the hard to reach eye area. This device will visibly reduce the appearance of fine lines and wrinkles while increasing the power of your favorite skin care products. By harnessing the power of the lower frequency pulsations from gentle sonic waves, it creates a revolutionary, noninvasive anti-aging tool that better penetrates and treats the inner layers of skin where skin damage begins. With both a heat and cooling option, it's perfect for opening and closing pores, thereby tripling product absorption and pushing product into skin. In this way, key ingredients can work almost immediately instead of evaporating if applied with your fingertips.
Product Details
— Warranty: Manufacturer's Limited Lifetime 
— Set of 4 
—Includes:
Espresso Double Shot 
— Tightens Pores Within 60 Seconds Of Application 
— Visibly Reduces Bags And Fine Lines 
— Instant, On The Go Lifting And Plumping 
— Designed For A Special Occasion
Brighten Up Triple Eye Serum 
— Plant Stem Cell Formula 
— Regenerate Skin's Healthy Texture 
— Deeply Moisturizing 
— Reduce The Appearance Of Fine Lines + Wrinkles 
— Vitamin C & Coffee Arabica 
— Coffee Seed Oil
Brighten Up Triple Face Serum 
— Plant Stem Cell Formula 
— Regenerate Skin's Healthy Texture 
— Deeply Moisturizing 
— Reduce The Appearance Of Fine Lines + Wrinkles 
— Vitamin C & Coffee Arabica 
— Coffee Seed Oil
Dual Sonic Infuser 
— 3 Functions: Hot, Cold, Sonic Vibration 
— Visibly Reduce The Appearance Of Fine Lines + Wrinkles 
— Engineered For the Face + Hard To Reach Eye Area 
— Open + Close Pores 
— Enhances The Results From Skin Care Products