As seen on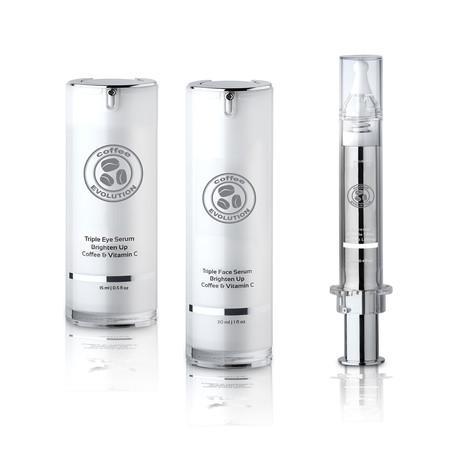 As seen on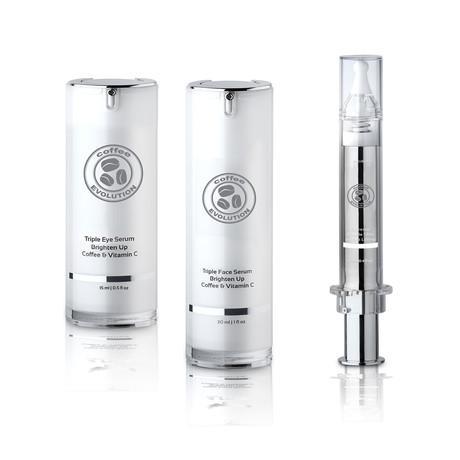 Anti-Aging Brightening 3 piece skin care set
Overview
The Anti-Aging Brightening 3 piece skin care set is the secret to prevent aging and to stay looking your best.
The Espresso Double Shot provides the benefits of a face lift without an expensive and invasive procedure. This syringe will help banish wrinkles and puffiness, even around the eyes. As wrinkles and fine lines begin to fade, your skin will feel softer, smoother, younger, and tighter.
The Brighten Up Triple Face Serum and Brighten Up Triple Eye Serum are combined with Vitamin C and Coffee Arabica, a powerful antioxidant that reduces damage and freshens the appearance of the skin, preventing damage and protecting from future harm. These active ingredients are suspended in a formulation of coffee seed oil, an excellent moisturizing agent, making it easily absorbed, and instantly minimizing fine lines and wrinkles.
Product Details
— Set of 3 
—Includes:
Espresso Double Shot 
— Tightens Pores Within 60 Seconds Of Application 
— Visibly Reduces Bags And Fine Lines 
— Instant, On The Go Lifting And Plumping 
— Designed For A Special Occasion
Brighten Up Triple Eye Serum 
— Plant Stem Cell Formula 
— Regenerate Skin's Healthy Texture 
— Deeply Moisturizing 
— Reduce The Appearance Of Fine Lines + Wrinkles 
— Vitamin C & Coffee Arabica 
— Coffee Seed Oil
Brighten Up Triple Face Serum 
— Plant Stem Cell Formula 
— Regenerate Skin's Healthy Texture 
— Deeply Moisturizing 
— Reduce The Appearance Of Fine Lines + Wrinkles 
— Vitamin C & Coffee Arabica 
— Coffee Seed Oil