As seen on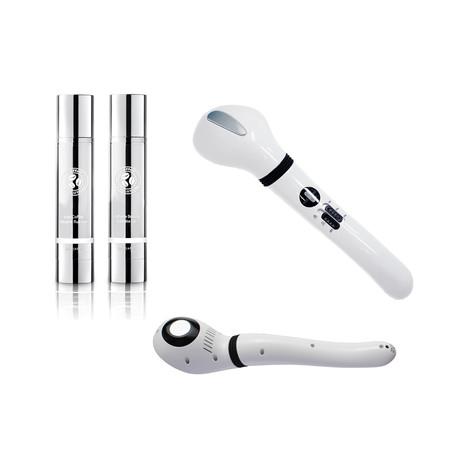 As seen on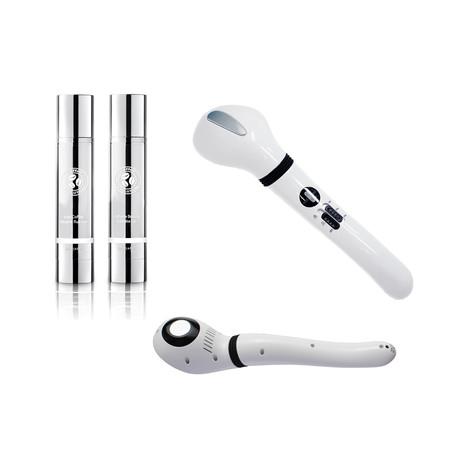 Body Indulge Set Plus Non-Surgical Hot and Cold Cordless Cellulite Reducer and Massager
Overview
The Body Indulge 3 piece set keeps your skin tight and firm so you always look and feel your best. Using products rich in coffee has many health benefits your skin. The caffeine found in coffee based cosmetic products increases blood flow, and reduces the appearance of cellulite, all while promoting a more even tone.
Caffeine's pain reducing qualities have long been known and researched. The blend of the main ingredients in this Iced Coffee Muscle Rub Gel — cayenne and Arabica Coffee beans — form a warming sensation around your sore muscles. The heat helps blood to circulate, which speeds up recovery.
Use the Caffeine Booster Cellulite Gel and keep your body tight all year long. With elements like Arabica coffee beans and cayenne that activate circulation, you will be well on your way to getting skin that feels and looks tighter, smoother, and younger.
The Hot & Cold Body Trainer is a revolutionary way to minimize the appearance of cellulite while maximize the performance of your favorite body care products. The heat option combined with the massage will help to open up the pores, tripling product absorption and pushing key ingredients into your skin. By increasing product absorption, the ingredients will be able to accomplish what they've set out to do instead of simply evaporate on top of your skin like they do when applied with your hands. Meanwhile, the cooling option combined with the massage causes fat cells to disintegrate, resulting in tightening and 'shrinking' of body areas.
Product Details
— Warranty: Manufacturer's Limited Lifetime 
— Set of 3 
— Includes:
Iced Coffee Muscle Rub Gel 
— Cayenne And Arabica Coffee Beans 
— Warms And Soothes 
— Promotes Circulation
Caffeine Booster Cellulite Gel 
— Arabica Coffee Beans & Cayenne 
— Activates Circulation 
— Smooths And Firms
Hot + Cold Cellulite Reducer 
— Relieves Aches, Pains, And Everyday Stress 
— Promotes Better Circulation 
— Fights Fatigue 
— Great For Relieving Stress At Home, In The Office, Or On A Road Trip 
— Use It To Target Hard To Reach Places Like The Lower Back, Neck, And Thighs 
— LED indicators 
— Cordless 
— Rechargeable Battery 
— Use Twice A Week For Best Results